The vineyard and the winery
GUIDED BY A PASSION FOR THE TERROIR.
The Vignobles Bouillac signature
Petit Verdot or « petit vert », because of its late ripening, once considered to be typical of the Médoc, from Margaux to Saint-Esthèphe, it does not rot, but it shows many difficulties in ripening. It only gives its best when it is very ripe, which is why we only make our 100% Petit Verdot cuvées in favourable vintages. Powerful, rich, colourful and tannic, it is a wine for laying down, which brings complexity and structure to the blends. Aromas of violet, raspberry, spices, menthol and liquorice.
Malbec or « Côt », represented up to 80% of the vineyards of Blayais and Bourgeais before the phylloxera. Today it is the essential grape variety in the vineyards of Cahors and South America. It offers colourful, fragrant and tannin-rich wines that are suitable for ageing. It is necessary to obtain a sufficient maturity to avoid too herbaceous and vegetal aromas. Just like Petit Verdot, our 100% Malbec is made when the vintage is promising.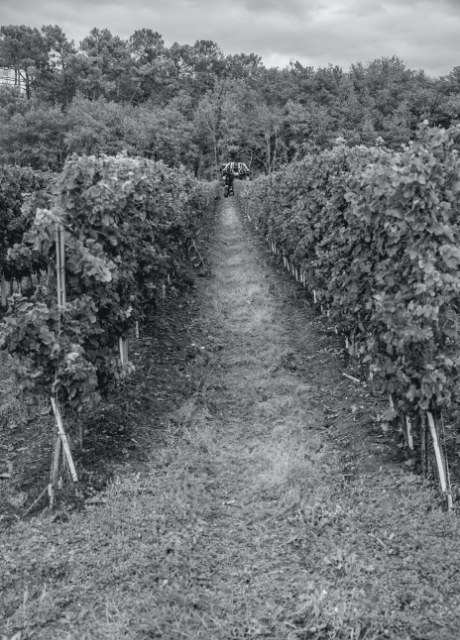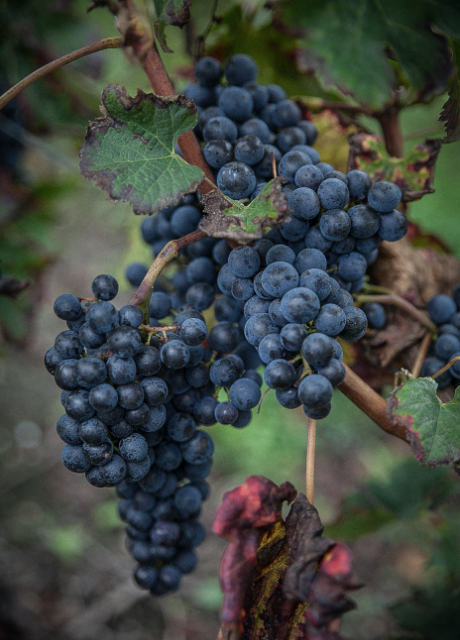 Grape varieties of the region
Merlot, in french origin « Petit merle » in blending it brings suppleness, a vigorous grape variety that produces blue-black berries with a thin skin. It produces wines with interesting aromatic potential, and a very honourable quality, which can be seen in certain Pomerol or Saint-Emilion crus.
Cabernet Sauvignon, this one has a thicker skin and a firm, crunchy flesh, with violet, green pepper or fruit sorbet flavours. It is the greatest French noble grape variety, it produces high quality wines, on slightly chalky, very colourful and tannic soils.
Cabernet Franc, the skin is thin, the sweet juice is slightly astringent. The wine made from Cabernet Franc is a little less coloured and less rich in tannins, allowing the production of fine wine.
The terroirs
A winegrower cannot grow vines in just any soil. Each soil corresponds to a type of grape variety, which enhances it, provides it with what it needs in water and any other matter for good behaviour. The Vignobles Bouillac Vineyards benefit from a great diversity of terroirs, which allows as many different expressions in each of our wines.
Clay and Clayey limestone
The rich soil, with white stones of varying hardness, constitutes a reservoir of humidity. These calcareous stones have a filtering power, while clay brings freshness, absorbs water slowly and retains it. An ideal soil for our Merlot grape varieties. It gives round and fine wines without being fat, the fruit remains intact.
Gravelly sand
It is particularly well adapted to the cultivation of Cabernet Sauvignon. The sandy-gravelly soils are at the origin of the most prestigious crus of the Médoc or the Graves. These pebbles brought by the Garonne and the Dordogne, mixed with sand and clay, form warm soils which allow the Cabernet Sauvignon to reach a beautiful maturity. It gives wines that evolve with finesse.
Gravelly clay
We find the virtues of clay with hard and rounded stones. Ideal for the Merlot and Cabernet Franc grape varieties which evolve perfectly in these soils which are mainly found around the Pomerol appellation. Wines from these terroirs are generally wines of great power.
Our harvest
We harvest a large part of our vineyard mechanically, under the guidance of our technicians who determine the right date, depending on the ripeness of the different grape varieties.
Merlot and Cabernet are the earliest grape varieties, and always the first to be harvested. Followed a few weeks later by Malbec and Petit Verdot because of their thicker skins.
Some islets (small pieces of land) are hand-picked for total quality control; this is the cuvée: Les Mains Sales which will then be vinified by hand.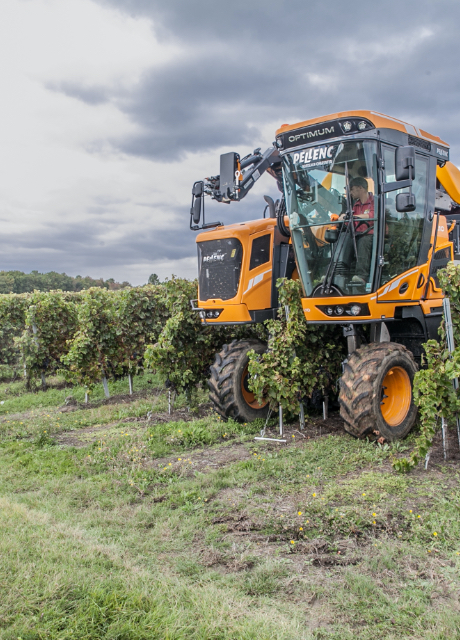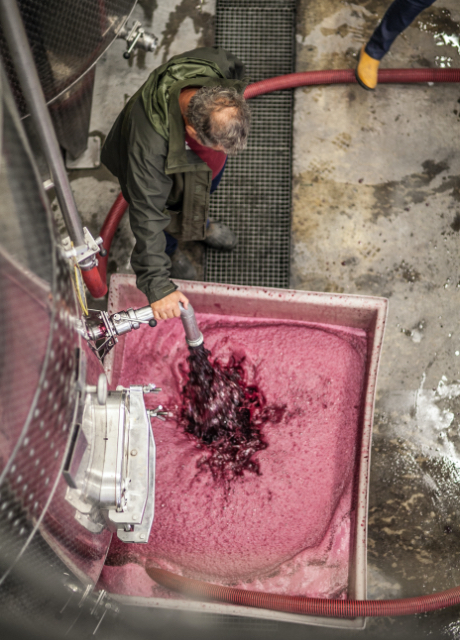 The winemaking process
Once the harvest is over we can proceed with the vinification. For our traditional wines the vinification is done in stainless steel tanks.
De-stemming, crushing, pressing and finally comes a period of cold pre-fermentation maceration (4 – 15°C for a few days). The pre-fermentation maceration is a variant of the traditional maceration, it allows us to obtain red wines with more intense fruity notes.
The must is recovered during fermentation and poured back over the cap, this is called « remontage ».
We do not do this stage very often, so as not to extract a wine with too hard tannins, less pleasant and less fat.
A too long pumping over or a long fermentation is not our goal. The objective is to obtain wines of a beautiful finesse, supple with a little sweetness.